Have you ever fallen in love with a drama? I was searching for something to watch after ending the awesome unexpected anime, Magic Kyun Renaissance!
1. Princess Agent
Currently on episode 12 of this drama (apparently it airs 2 episodes/day 4 times a week for a total of 47 episodes I think). Usually these types of dramas, the female MC starts strong then as the drama goes on she has to depend on everyone around her to help her and it just gets so frustrating to watch. Cuz I didn't start watching to watch this awesome character become this soft one that I could find in every other historical drama. But Zanila Zhao is killing it with her Xing'Er character! I'm loving the jealous daggers that YYW is throwing at her whenever she interacts with other guys. He's currently still confused about this newfound feelings for her haha. Anyway the kungfu scenes of Xing Er are pretty awesome to watch. I clicked on the drama by accident cuz the poster seemed cool, watched the opening trailer where she's basically a wuxia Mulan-type character (getting to wear a general's uniform and go into war and all) and knew I found my next drama to watch (and get addicted to). Not a fan of her burdens, the sisters though. The youngest is always doubting her and never fully trusting her, though she willing hides behind her back in times of danger...
2. Magic Kyun! Renaissance
This is based on an otome that sadly only available in Japanese on PSVita only (haven't had a Playstation console since my mom's impulse buy of the PSP). Where else do you get to see handsome ikemen with special magic art skills and singing as well? Each episode is centered around the development of one character. And I totally shipped the MC with the ice prince who had crystal roses appear whenever he sang...which led to me to maybe buying the entire ENTIRE album and listening to all the songs on repeat. The animation was gorgeous and so was the story. It was unlike any other otome-based anime I've ever seen before. Which reminds me of another otome-based anime that I'm following (one episode a week sucks...) called
Kenka Banchou Otome
. A girl finds her long lost twin brother who also happens to be the heir of a yakuza family. So he convinces her to switch places with him to come out on top at the yakuza fighting school cuz she is a better fighter than him.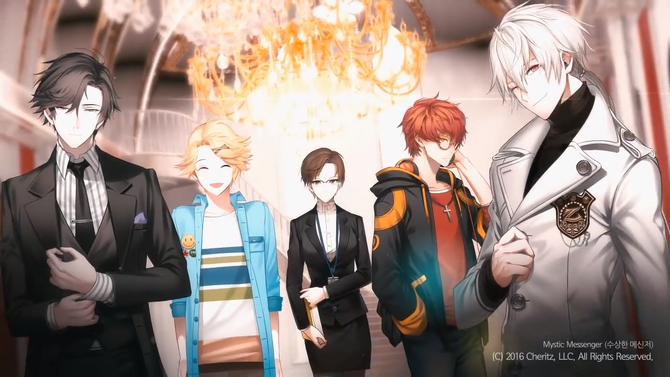 3. Mystic Messenger
So apparently this game lasts 55 days if I have to play each of the 5 characters route day by day which makes sense since the route usually lasts 11 days (12th day is the party where I essentially act as a party planner and say sweet words to convince weird guests to attend). Played Yoosung's route and was fed up halfway when he kept comparing me to Rika (whose gone) like his whole life and his major revolved around her. He was kinda cutesy but not my type. Zen route is the route I'm currently in and boy is this boy charming! Didn't even notice his ponytail at the back till his emojis displayed it. Currently about to meet Zen! Even before the party wowww. Did not see this turn of events!! It's a fun game to play because you're not done playing in just one sitting. You go back to the game through out the day responding to emails, messages and participating in chat rooms as well as getting some hearts from the spaceship honey butter chips on the bottom. I turned on the notifications (only app I decided to receive notifs from) for only the emails and chatrooms. The messages aren't pertinent to the flow of the game.